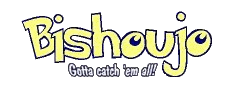 These are official Bishoujo training badges.
Right click on any image you wish to have and choose save as... Link the image back to http://www.pocket-bishoujo.com so that others may come and join the fun too!
Feel free to design and use other homemade trainer's badges of any reasonable size. You are responsible for adding the logo to the image (just use the logo above and resize it to fit).
Please note I'm not going to accept any new badges for a while.

If any badges are mislabeled in any way please contact me
Total Badges Presently Available: 353